Looking through the lens of art, "medium" refers to the substance an artist uses to create. Taken literally, you visualize the various forms of lines, colours, and shapes as they come to life. Beyond those tropes, an artist, a person with substance, brings value to the world around them, creating something physically that has the power to connect and evoke emotion.
Omar "Oms" Hopkinson was born in Toronto, Canada and was inspired to create and share his passion for art at a young age. As he's matured through the years though, his art has become the medium in which he inspires, draws the best out of his subjects and forms a bond which fosters connection. His authenticity and love for not only what he does, but the people whom he serves, bleeds onto the canvas. Oms was raised by his single mom, Patricia, and recognizing his own love for art, pursued higher education as a young adult, formally studying and obtaining degrees from both Ontario College of Art and Design (OCAD) and Toronto School of Art (TSA). Drawing inspiration from Toronto'surban culture Oms was an early navigator of Toronto's hip hop scene as a creative contributor and member of "The Circle," a Toronto-based collective of artists including names like Kardinal Offishall, Choclair, and Jully Black. He continued this journey and became recognized as a live painter, creating art at various events and music festivals such as Outdoor House Music Festival, House of Paint (Ottawa), Escapade Music Festival, and more.
As his scope broadened, Oms has worked across other industries and organizations, whether through his commissioned fashion projects with Footlocker, charitable work with the United Way, or his community work as a Board Member for Arts Milton. Oms reimagines what art means today, painting on all surfaces from canvas to found materials with a clear understanding of colour and its ability to evoke emotion. It's through his medium he intends to inspire, building on his substance and leaving a positive impact.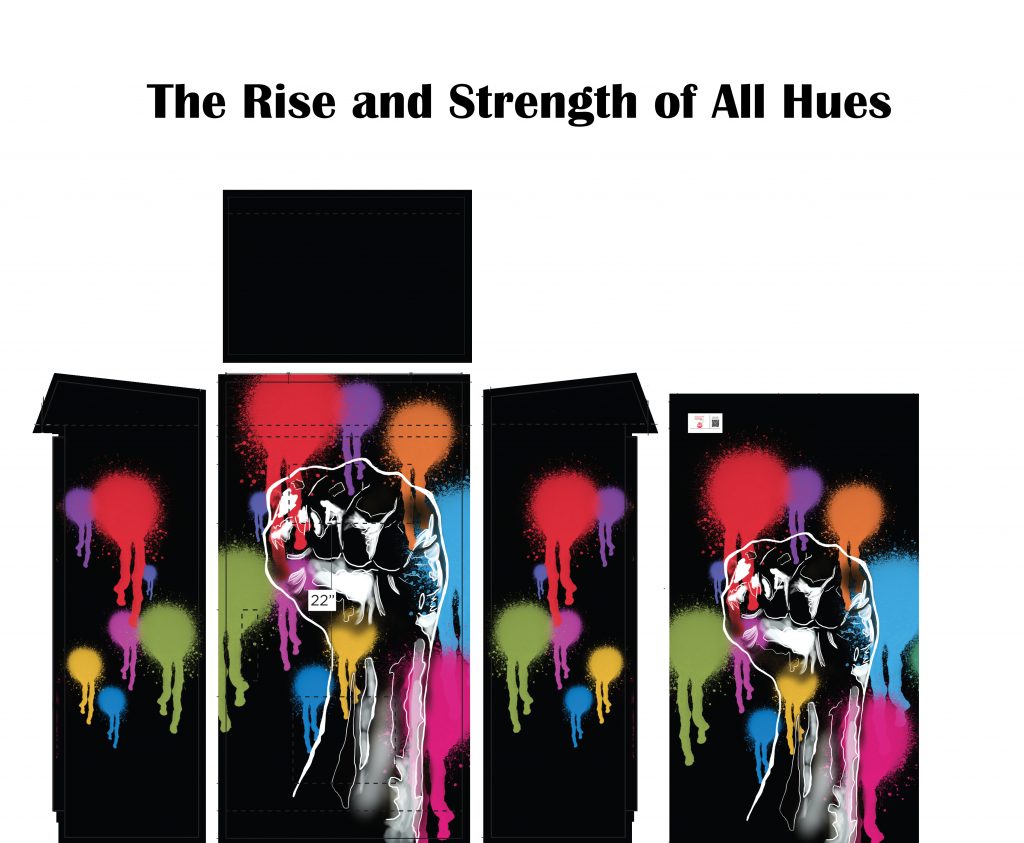 The Rise and Strength of All Hues
(This Traffic Box is located at Thompson Road and Drew Centre Close to the Lions Sports Park)
Digital Painting – A large fist adorned by multi-colour patched of colour in a spray can style. The fist stands for unity and power, while the colours are a nod to the colourful world of cultures, genders and people all around the world. The overall objective is to show inclusivity without focusing on one specific group. We are all one.